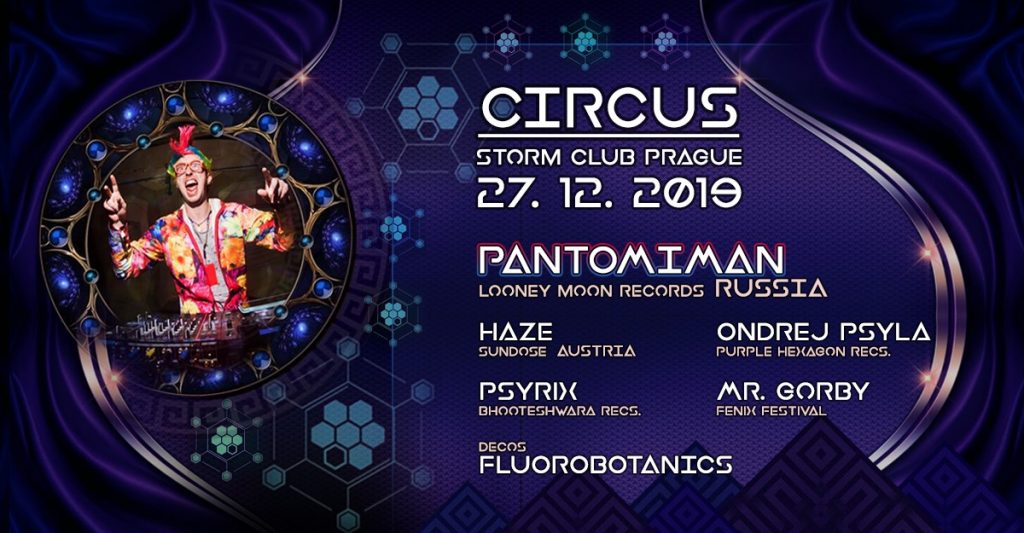 To ještě v Praze nebylo!
Pantomiman se vrací do ČR a vůbec poprvé vystoupí v Praze.
Jeho dvou hodinové vystoupení skloubí kvalitní psytrance s divadelním až cirkusovým představením!
Pokud si pamatujete jeho vystoupení na festivalu Bio, tak víte o čem je řeč!:)
Kdo neví, tak ať mrkne na videa!
Jsme velmi rádi, že Goshu můžeme poprvé představit v Praze!
LIVE:
Facebook: https://www.facebook.com/Pantomiman/
Instagram: https://www.instagram.com/pantomiman/
Soundcloud: https://soundcloud.com/pantomiman
BandCamp: https://pantomiman.bandcamp.com/
PANTOMIMAN (LOONEY MOON RECORDS, RUSSIA)
SUPPORT DJS:
HaZe (Sundose, Austria)
Psyrix (Bhooteshwara Records, CZ)
DJ Ondrej Psyla (Purple Hexagon Records, CZ)
Mr. Gorby (Fenix Festival, CZ)
DECOS:
https://www.facebook.com/fluorobotanics/
FLUOROBOTANICS
Info:
Pantomiman is Georgy Agaronov (or Gosha for short), a Russian psytrance producer with some extra flavour on top — he is a professional comic actor who comes from a family of circus comedy performers! Early in his childhood years Gosha began playing musical instruments, performing on stage and later composing his parts for a circus band. When Gosha was a teenager he discovered electronic music and a bit later towards the late nineties Gosha discovered something that felt very natural to him — psychedelic trance. Since then Gosha has been developing and working on his own sound, partly with an expert guidance from Alex Parasense.The past few years Pantomiman has spent DJ'ing and playing live around a World entertaining crowds with his very special and very funny musical shows. Needless to say Pantomiman's music is a psychedelic circus act in itself. Sometimes more aggressive and twisted, sometimes more nostalgic and funky music by Pantomiman never fails to surprise and excite. Pantomiman's groovy bass lines and comical themes make people dance and laugh at the same time, while of course his skilful sound synthesis guarantees that a trip will be adventurous, joyful and amusing.
PRESALE:
only 30 early birds tickets
Presale link:
https://www.book-tickets.cz/circus/
ALL Digital Forest Festival EVENTS:
09.11. Digital Storm with Fungus Funk&Gappeq – Storm Club Prague
31.12. Psylvestrance 2019/2020 w/ Blastourist & Psy-Mr. – COVER PLACE
01.02. Digital Forest Festival – Winter Tales – Fuchs2
13.08. Digital Forest – Psychedelic Trance Music Festival 2020